QUONNIE KIDS SWimWear + Apparel
Crayon Palms Tie Top Tank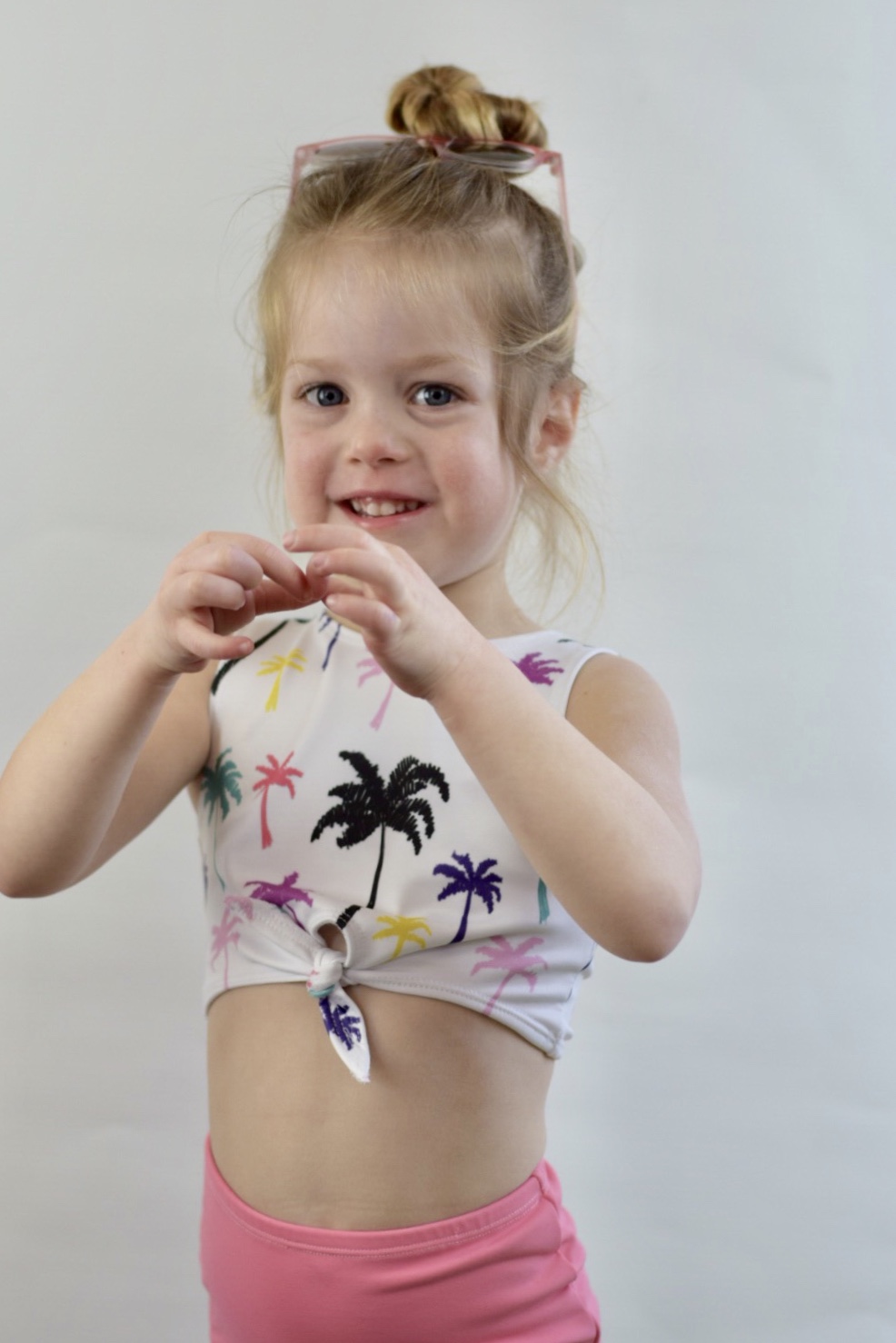 Lobsters and Polka Dots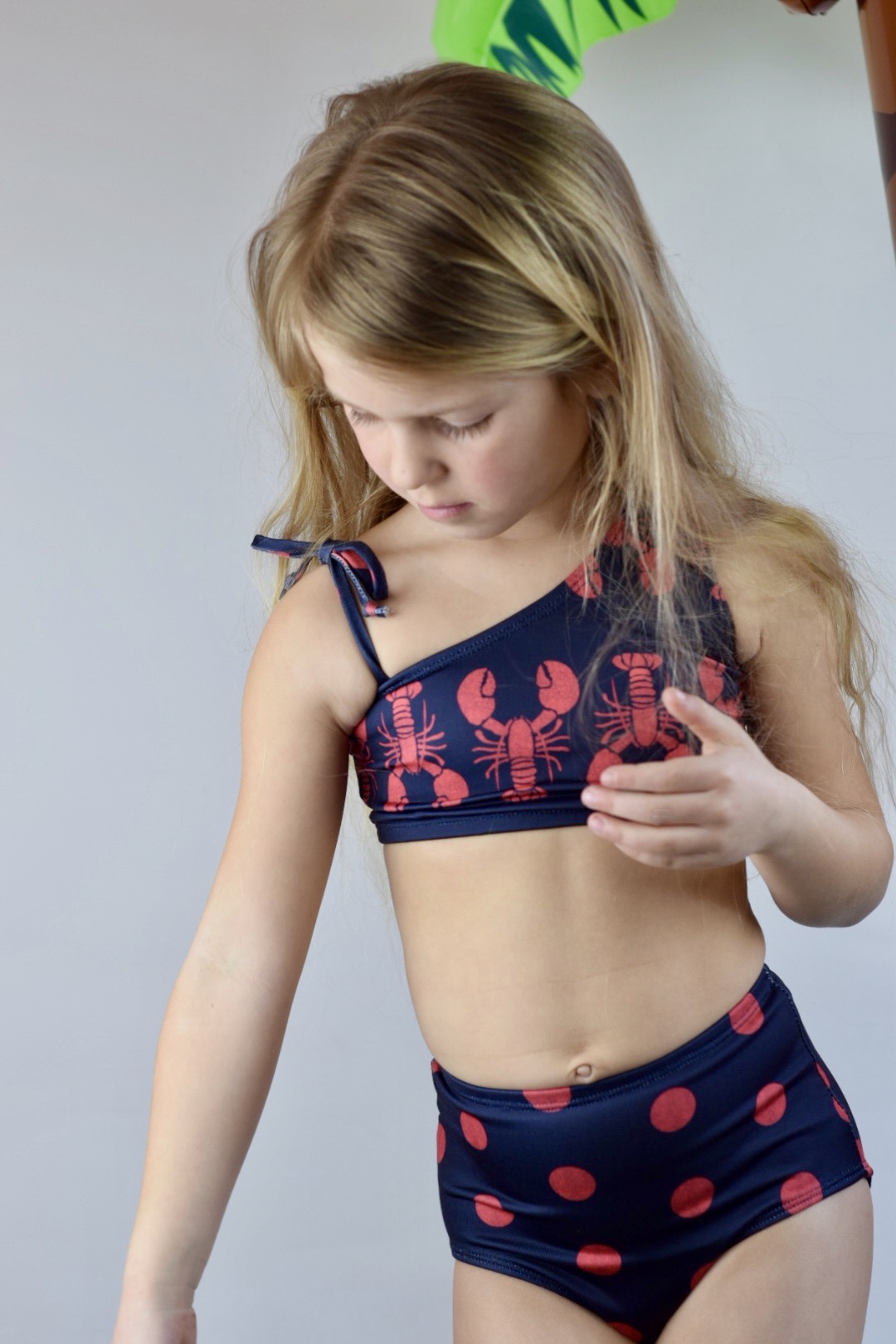 Navy Pineapples with Yellow Polka Dots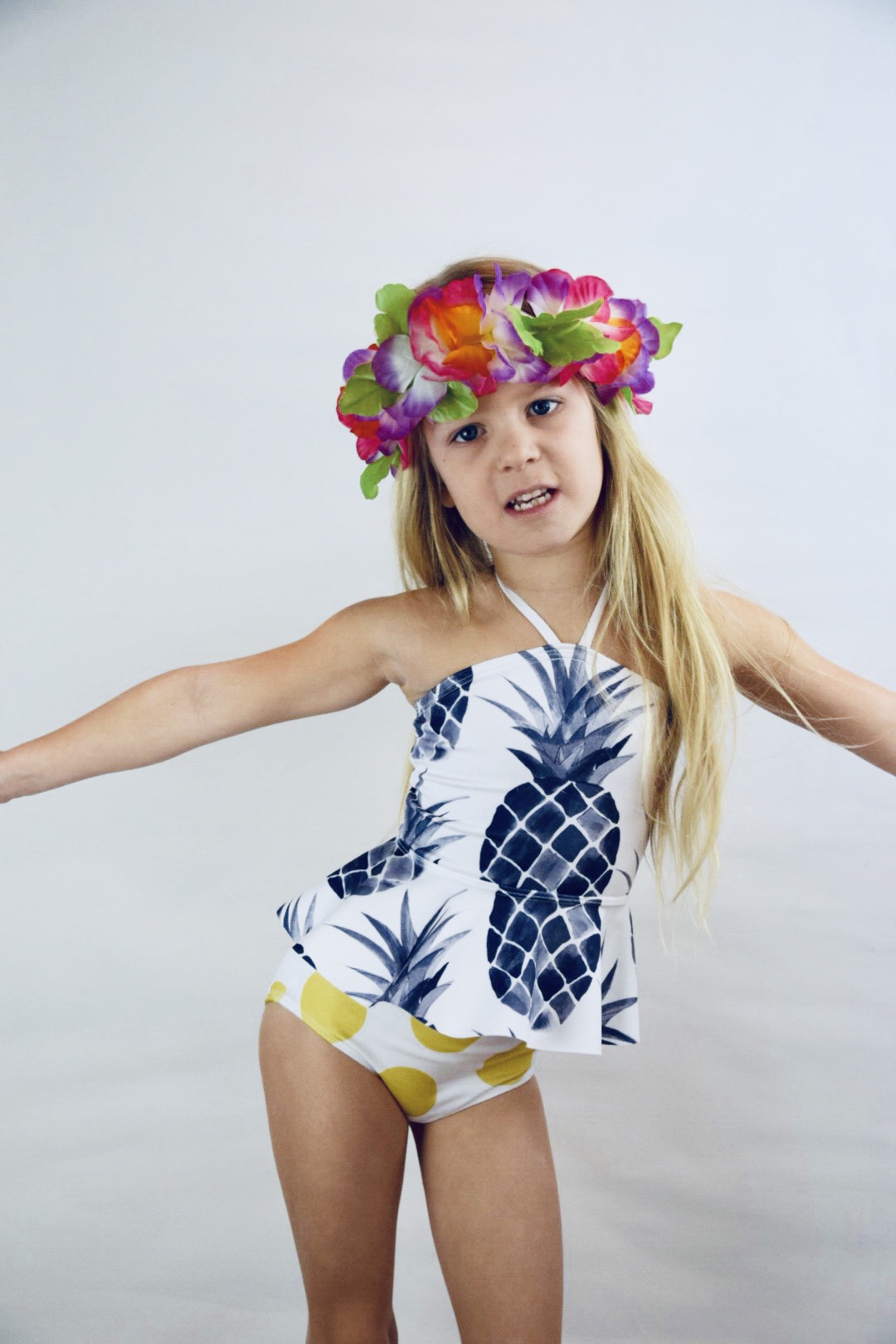 Sk8 Classic Tie Front Tank with Stripes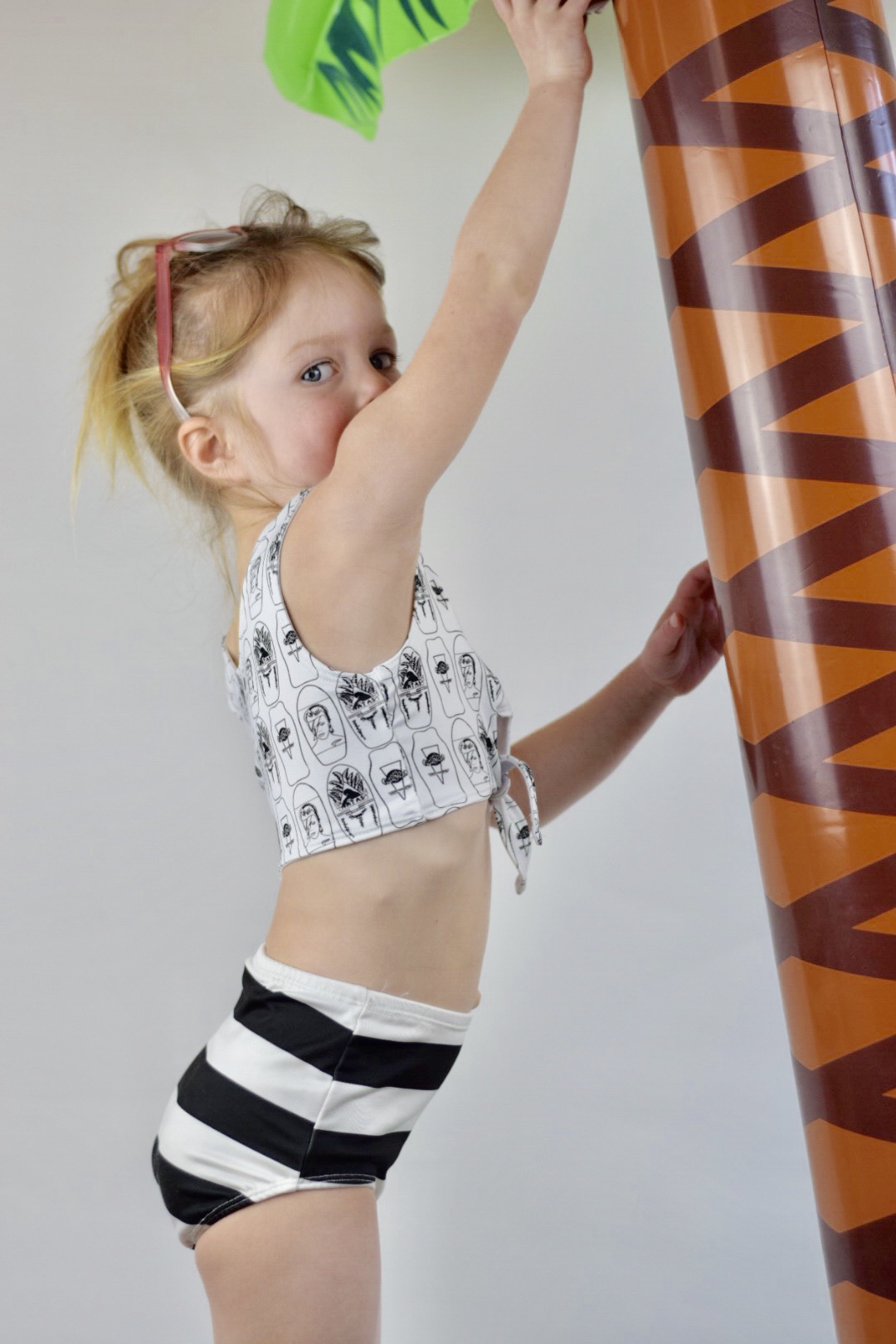 Pineapples and Polka Dots Ruffle Tank
Tropical Flamingo Ruffle Halter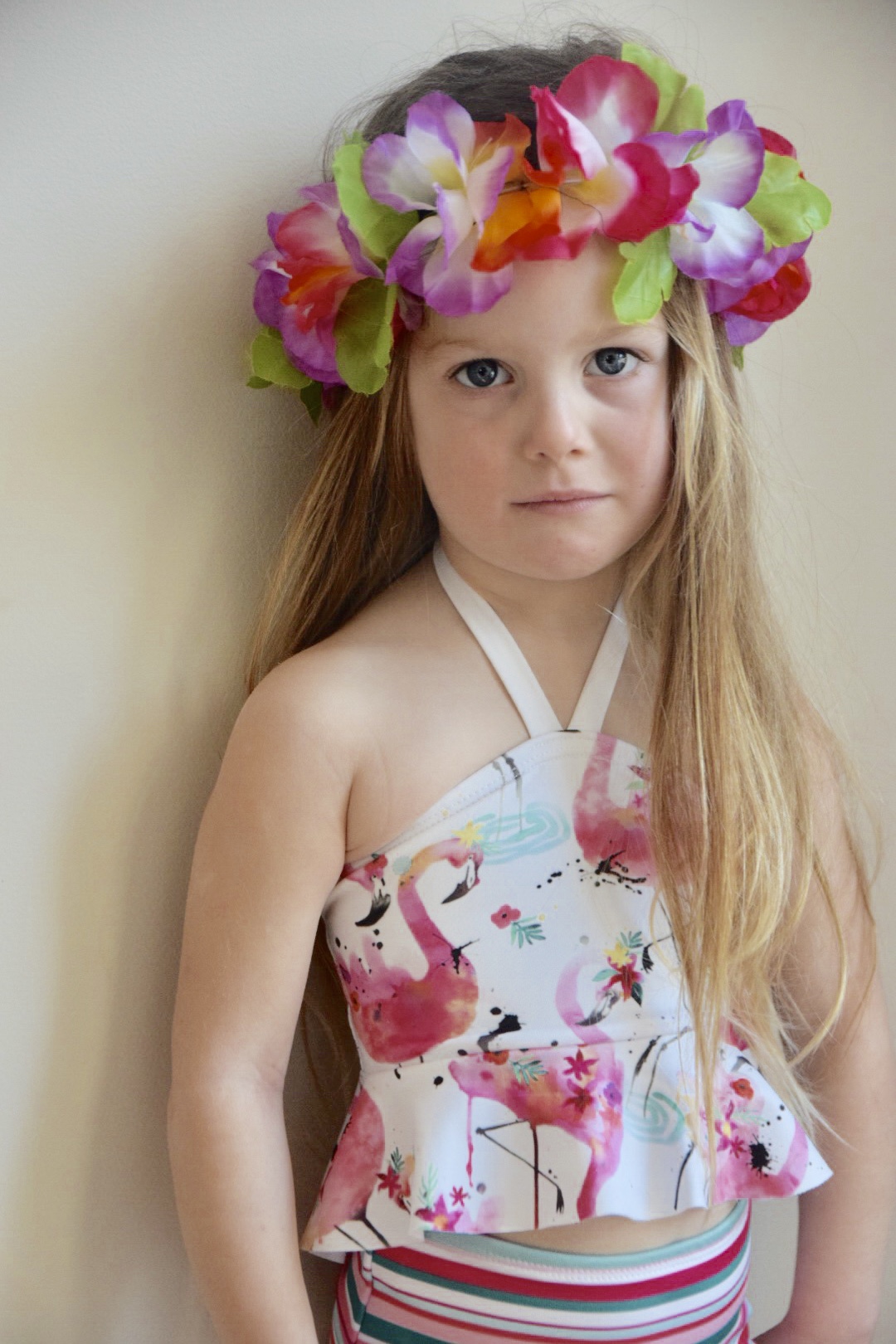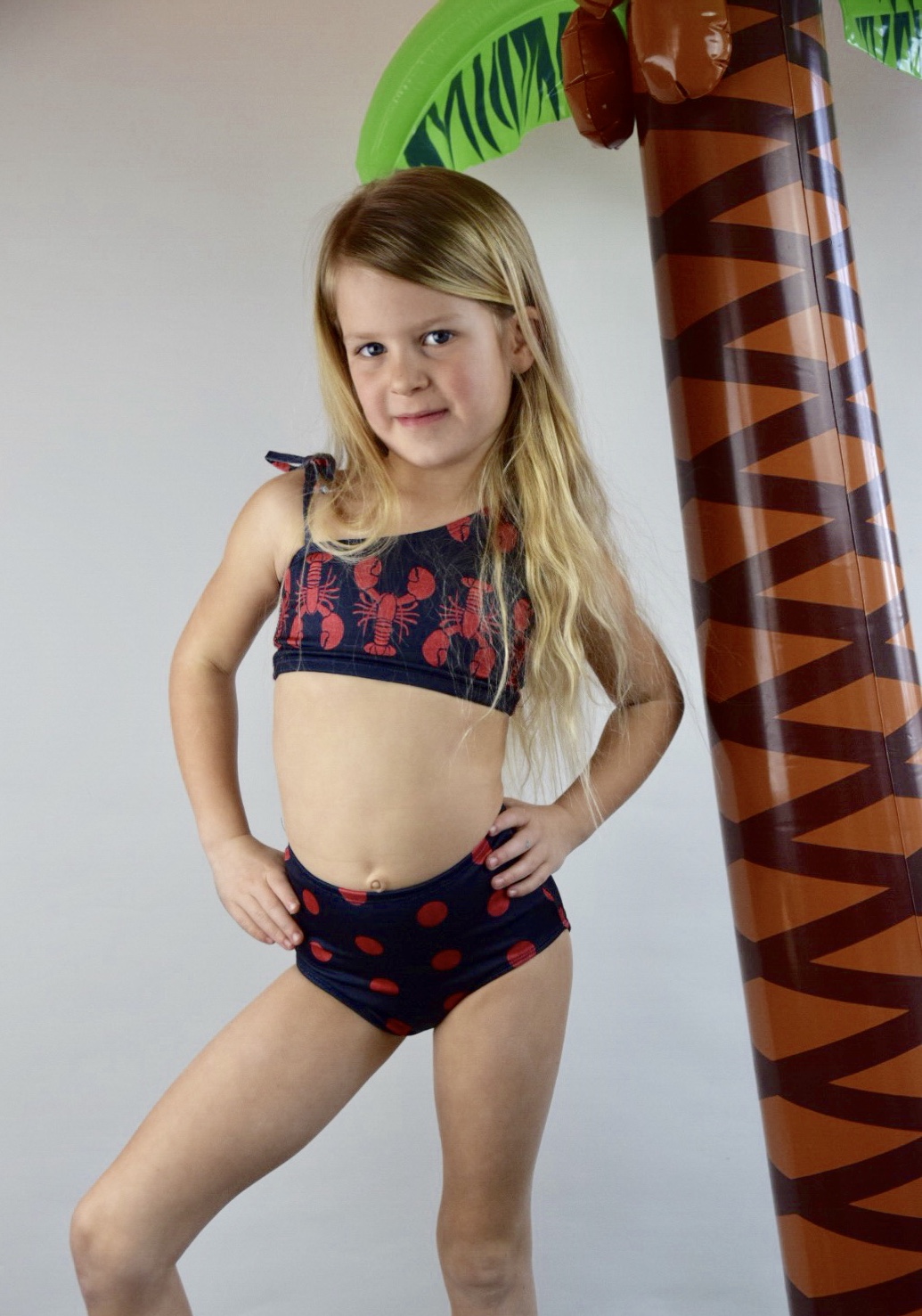 Tropical Pink Pineapple
Toddler girls pink pineapple with monstera halter peplum with solid pink high waist bikini bottom. This style is so cute on, providing modest coverage and the convenience of a two piece (way easier for the little ones to go potty). This halter bodice has a short ruffle and a neck tie for easy on and off. The top is paired with a solid pink high waist bikini but can be paired or styled anyway you like.
This print, I'm proud to say is part of my own collection and was made specifically for this swim line. The prints are brought to you via Spoonflower fabrics.
Quonnie Kids swimwear and apparel are designed for fit and flexibility with the understanding that children come in all shapes and sizes. Every suit can be MIX and MATCHED meaning you can combine tops and bottoms and prints to your or your child's liking as well as sizes for best fit.
I recommend sending a chest, waist, and bottom measurement so your suit can be custom fit to order.

Specs:
- Handmade in CT in smoke free, pet free environment
- Fully lined
- Swim elastic in chest, waist and legs for best fit
- Made from Sport Lycra, fabric is breathable and quick drying with great stretch and beautiful sheen.

Washing Instructions:
This fabric stands up to repeated pool parties and washings with great color stay. It is also great beach fabric, as it doesn't get the large amount of sand embedded in the weave, like other cheaper swim fabrics do. Wash separately in cool or warm water on a gentle/delicate cycle. Line dry for best results but can be dried on low heat setting.
Tropical Flora Matched Set
Tropical Flora Halter with high waist bottoms
Terry Tunic Beach Cover with Pink Pom Poms
Pink Pineapple Tiny Bikini and Summer Stripes
Girls "tiny bikini" in pink pineapples with high waist summer stripe bottoms
Watermelon Tank w/ Ruffle and Watermelon Halter
Toddler girls ruffle tank with Large format Watermelons and high waist black and white stripes bottom.
Girls Flamingo Halter with Striped Bikini Bottom
White Terry Tunic with Pom Poms
Watermelon Tank with Ruffle
Toddler Girls Tank style top with ruffles in Large Format Watermelon print shown with High waist black and white stripe bottoms.
Pink Tini Bikini top w/ Pink Pineapple Bottoms
Toddler girls Tini Bikini in solid pink, shown with the Pink pineapple print bottoms.
Pink Pineapple Halter + Tropical Flora Halter
Toddler Girls Pink Pineapple Halter and Tropical Flora Halter shown with solid pink High waist and Regular pink bikini bottoms
Black and White Stripe High Waist Bottoms
Toddler girls high waist bikini bottoms.
Girls Tropical Flora Halter with Pink Bikini Bottom
Flamingo Tube Halter
Watermelon Rash Guard with Sport Bottom
Tropical Flora High Waist Bikini Bottom
Solid Ruffle Tube with High Waist Summer Stripe
It's March and this year has been a busy one. The weather is finally starting to brighten which means spring breaks and summer are on the horizon. Navy is one of my favorite colors, so I'm excited to introduce my new spring/summer collection with lots of navy to go around. This years Lobster print with polka dots are classic New England. I also did a re-imagining of the Itsy Bitsy Teenie Weenie Yellow Polka dot bikini by way of large yellow polka dot bottoms with a navy and white pineapple mix and match print tops. Not only are there my new prints but I was also inspired by the big kids (adults) suits so this season you'll see an off the shoulder suit as well as the tie front tank, which I love! Quonnie kids is always about the FUN so Have a blast and Mix and Match till your hearts content. #livequonnie
Follow @QUONNIEKIDS on Instagram